July 15, 2018
Timings for tonight's show: 15 July 2018
Anfiteatro Falcone Borsellino, Zafferana Etnea, Catania, Italy Doors: 19:45
Gyda Valtysdottir: 20:45
Mariam The Believer: 21:15
Damien Rice: 21:55
read more »
---
July 14, 2018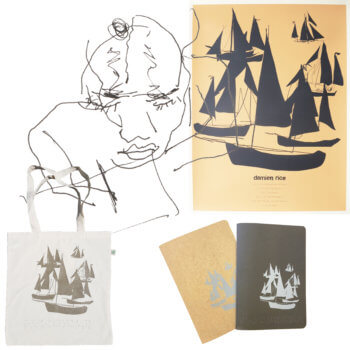 Notebook, tote bag and poster for the #WoodWaterWindTour, which starts tomorrow. Artwork designed by Gudrun Havsteen, using original line drawings by Damien. A small number Deluxe O Vinyl will also be available at these shows. 
Artwork Design
The artwork for the notebook, tote bag and poster was designed by Gudrun Havsteen, using original line drawings by Damien. All include the Wood Water
Wind Tour dates.

Notebook
Damien first came across the beautiful and simple notebook by Falafel Books when he was in Russia, just before he went on the Trans-Siberian Railway trip last year.
Thread-bound, two colours options (natural straw or dark grey)
Made in Moscow by Falafel Books
Limited Edition (75 of each)
Price: €15

Poster
Screen printed on 320gsm paper
Hand-numbered
Limited Edition (300)
Price: €20

Tote Bag
Screen printed on organic cotton 
Limited Edition (150)
Price: €10

Deluxe O Vinyl 
Hand-numbered by Damien
Made and Assembled by hand in Ireland
2 x 180g Vinyl
Classic Clothbound Book Cover
Original O Artwork Booklet
Lyrics
2 x 'Hidden' Songs (from O)
4 x Additional Songs (from B-Sides)
Price:
read more »
---
July 9, 2018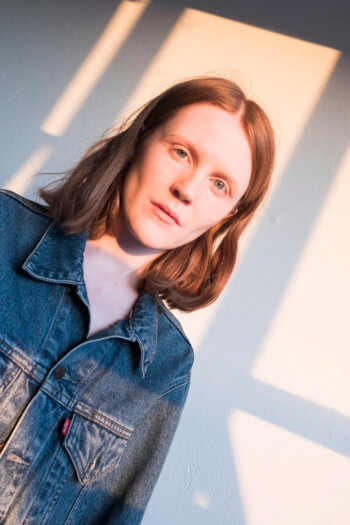 sillus joins Damien at Caprera, Bloemendaal on August 10th.   Tickets are SOLD OUT for this show.   Tickets are still available for the below dates of the #WoodWaterWindTour here   July 15: Anfiteatro Falcone Borsellino, Zafferana Etnea, Catania, Italy July 19: Belvedere Di San Leucio, Caserta, Italy August 02: Auditorium de Palma de Mallorca, Palma, Mallorca, Spain   Photo credit: Therese Vadum   sillus Facebook sillus
read more »
---
June 29, 2018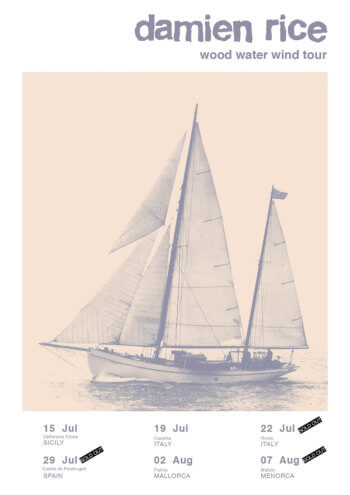 Shows in Rome, Calella de Palafrugell and Menorca have now SOLD OUT.Tickets for Catania, Caserta and Palma shows can be found here
read more »
---
June 26, 2018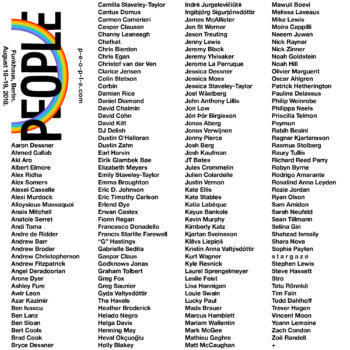 https://www.p-e-o-p-l-e.com/ Funkhaus Berlin August 18-19,
read more »
---
June 13, 2018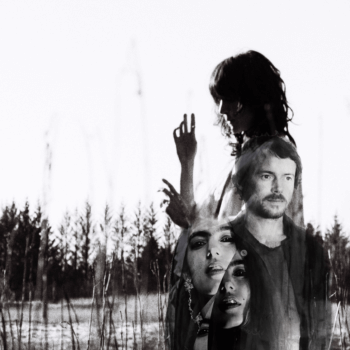 We're happy to announce that Gyda Valtysdottir and Mariam The Believer are joining for the Italian shows of the #WoodWaterWindTour
Tickets
read more »
---
June 1, 2018
10 years ago, today, Damien embarked on a '10 Days To Barcelona' project. The idea was to drive from Dublin to Barcelona in his old Mini, with some friends, and write a new song each day on the journey.
The songs, recordings & film footage of the project have lived on the shelf for the past 10 years. It has only recently been dusted off and prepared for a slow release, over the coming months. Here are two versions of '100 Miles Across The Room'. An acoustic version and a more produced version. Both are rough mixes and unmastered. More songs coming later.