May 18, 2023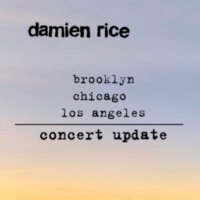 Brooklyn, Chicago & Los Angeles Concert Update
Sorry for the technical issues that you may have experienced during the pre-sale for shows on Tuesday.
Brooklyn & Chicago
Due to ticket-server overload issues, the venues said they will contact each purchaser by email
to offer a refund of the booking fees for the hassles experienced.
Los Angeles
For those who experienced the compulsory purchase of 4 tickets for the Los Angeles show, the venue will be in touch to offer a full refund for any unwanted tickets, along with a refund in booking fees.
PLEASE NOTE
All pre-sale tickets are sold out. All tickets purchased so far are still valid. We have delayed the General On-Sale date until 02 June while the issues are resolved.
In the meantime, we will add an extra Los Angeles show and send information about further pre-sales and a new code for this show, over the next few days to those on our Mailing List https://damienrice.com/mailinglist/
read more »